This page is a simple listing of where to start if you don't know what you are doing.  I've pulled together my guides and posts that will get you going and I will be adding to this over time. Just start at number 1 and work your way through. How … [More]
Where do I start?
Never built a website?
That's OK! If you can create a word document,
You can build a website.
Just click the big blue button!
Websites 101

3 Free Chapters of my eBook
Enter your details below for instant download
Recent Articles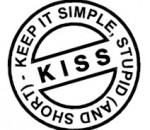 In today's society of complicated websites and projects, I've come to a conclusion recently. I can't take credit for it though. It's been an idea that has been around for a long time. KISS… (Keep It Simple Stupid). Now don't get me wrong, there are times when a super awesome, custom built website will make [...]