I've just installed a new plugin called ThumbSniper.  What it does is it pops up a little box on certain links (you can set it to external, all, or even specific links) that shows a preview of the page you will be going to.  For instance if I put a link to bluehost when you hover over it it shows bluehost.  I thought that was pretty neat but I wondered what you all thought?  Let me know in the comments.
 UPDATE: Although I loved the idea of this plugin, in practice on this particular site it didn't work well.  Don't get me wrong, the plugin worked as advertised. What didn't work was that I didn't want to specify every link to pop out so I set all external links but that caused problems (funny interaction) with they share plugin (because links to facebook are a 3rd party link…) Because of this I removed the plugin but I could still use it if I wanted to specify every page that I was linking to. If you are interested to see how it looked, I took a screenshot: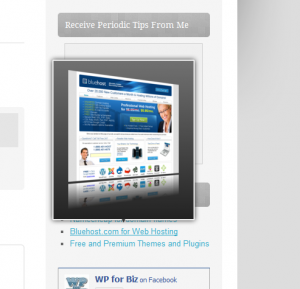 As a note, it is easy to add and remove plugins from WordPress but if you aren't going to use them, don't just deactivate them, delete them so they aren't cluttering your system and potentially slowing down your website.